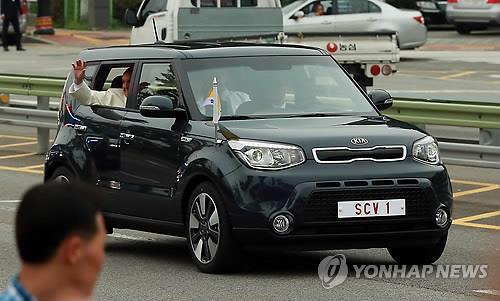 Pope Francis has recently arrived in South Korea for a five-day visit. As a Korean and a Kia driver, I can confirm that his decision to ride in a Kia Soul was well-received.
This will be the pope's first trip to Asia. The highpoint of the visit will be Saturday's ceremony when Pope Francis will beatify the 124 Catholic martyrs who died from 1791-1888.
Though South Korea has become known for its high concentration of Christians, both Protestants and Catholics, the progression of Korean Christianity has not been easy. We see the large churches and seemingly unending supply of Korean missionaries, but we forget the persecution, setbacks, and struggles of Korean Christianity.
I am looking forward to Sabastian C. H. Kim and Kirsteen Kim's forthcoming volumes A History of Korean Christianity
(November 2014, Cambridge). The work will begin in 1392 and take us to the present.
In the meantime, Sung-Deuk Oak's The Making of Korean Christianity: Protestant Encounters with Korean Religions, 1876-1915
is a good read. Rather than a straight chronological approach, Oak discusses the history of Korean Christianity through thematic chapters. He addresses issues such as the formation of the Korean term for God, Hanănim, the image of the cross, Shamanism, Korean memorial services, translation work, and revivals. At times, the thematic approach makes it slightly difficult to track the relationship between the different themes, but that should not take away from Oak's significant work. The Making of Korean Christianity
is easily a must-read for students of Korean Christianity.